---
---
---
Contact
Institut für Informatik
Institutsdirektor:
Prof. Dr. Paul Molitor
phone: ++49-345-55 24710
fax: ++49-345-55 27009
direktor@informatik.uni-hal...
Von-Seckendorff-Platz 1
06120 Halle
postal address:
Martin-Luther-Universität
Halle-Wittenberg
Institut für Informatik
06099 Halle
---
---
Login for editors
---
Institute of Computer Science
Informatik studieren in Halle
Wir haben einen eigenen Blog für Interessierte an einem Studium der Informatik, Bioinformatik oder Interaktive Medien in Halle aufgesetzt. Ihr findet ihn unter https://studieninfo.informatik.uni-halle.de/.
eHumanities / eSocialSciences
Informationen zu dem Schwerpunkt eHumanities / eSocialSciences des Instituts für Informatik der Martin-Luther-Universität, insbesondere zu den Projekten, Publikationen und Vorträgen, finden Sie hier.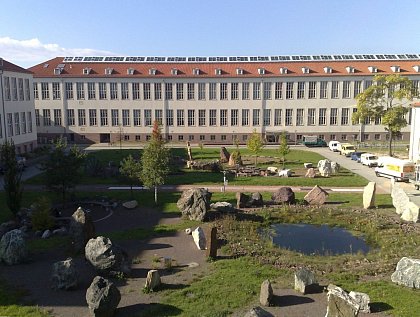 Computer Science Institute
News from the Institute
Informatik-Treff auch in der vorlesungsfreien Zeit geöffnet
17.02.2020: Der Informatik-Treff öffnet auch in der vorlesungsfreien Zeit an einigen Tagen seine Tore zur Unterstützung bei der Prüfungsvorbereitung.
Juniorprofessur "eHumanities" (tenure track) am Institut ausgeschrieben
12.01.2020: An der Naturwissenschaftlichen Fakultät III, Institut für Informatik, der Martin-Luther-Universität Halle-Wittenberg ist zum nächstmöglichen Zeitpunkt eine Juniorprofessur W1 "eHumanities" (mit Tenure Track) zu besetzen. Gesucht wird eine Persönlichkeit mit einem Forschungsschwerpunkt in der Entwicklung und Anwendung von informationstechnologischen Werkzeugen, die die Geisteswissenschaftlerin/den Geisteswissenschaftler (m-w-d) bei der Bearbeitung entsprechend geeigneter geisteswissenschaftlicher Fragestellungen unterstützen.
@ward-Preis der Universität für Annett Thüring
12.12.2019: Annett Thüring gewinnt mit einem Blended-Learning Konzept für das Modul "Einführung in die objektorientierte Programmierung" den @ward-Preis der Martin-Luther-Universität.
---
---