Prof. Dr. Paul Molitor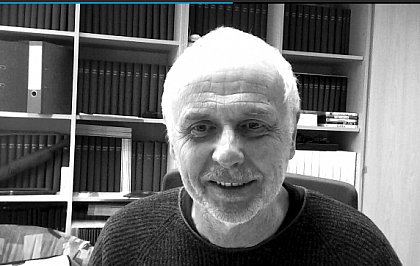 ---
Contact
Prof. Dr. Paul Molitor
Raum 217
Institut für Informatik
Martin-Luther-Universität Halle
Von-Seckendorff-Platz 1
06120 Halle (Saale)
phone: +49 (345) 5524710
fax: +49 (345) 5527009
paul.molitor@informatik.uni-halle.de
Peer-reviewed Publications
[78] M. Pöckelmann, A. Medek, J. Ritter, and P. Molitor. LERA - An interactive platform for synoptical representations of multiple text witnesses. in: Digital Scholarship in the Humanities, Volume 38, Issue 1, pp.330-346. Oxford University Press 2023. Published online June 30, 2022: https://doi.org/10.1093/llc/fqac021
[77] T. K. H. Luu, M. Pöckelmann, J. Ritter, and P. Molitor. Applying LERA for collating witnesses of The Tale of Kiêu, a Vietnamese poem written in Nôm script. Digital Humanities 2022 (DH2022), 25-29 July 2022, Tokyo, Japan.
[076] J. Dähne, M. Pöckelmann, J. Ritter, and P. Molitor. Putting collation of text witnesses on a formal basis. In: Digital Scholarship in the Humanities, 37(2):375-390. Oxford University Press 2022. Published online October 14 2021: https://doi.org/10.1093/llc/fqab058
[075] M. Pöckelmann, J. Dähne, J. Ritter, and P. Molitor. Fast paraphrase extraction in Ancient Greek literature. In: Special Issue "Digital Tools form Intertexuality Studies", it - Information Technology, 62(2):75-89, de Gruyter 2020. https://doi.org/10.1515/itit-2019-0042
[074] P. Molitor, G. Necker, M. Pöckelmann, B. Rebiger und J. Ritter. Keter Shem Ṭov ‒ Prozessualisierung eines Editionsprojekts mit 100 Textzeugen. Poster auf der 7. Jahrestagung des Verbandes Digital Humanities im deutschsprachigen Raum (DHd 2020), Paderborn, March 2-6, 2020.
[073] M. Pfuhl, J. Ritter, and P. Molitor. Finding the redundant gates in reversible circuits. In: Proceedings of the 10th Conference on Reversible Computation (RC 2018), LNCS 11106, pp. 205-219, Leicester, UK, September 13-14, 2018. https://doi.org/10.1007/978-3-319-99498-7_14
Research Interests
Circuit design ♦ BDD based logic synthesis ♦ Data Structures and efficiente algorithms ♦ Hardware verification ♦ Equivalence test of combinational circuits ♦ Traveling salesman problem ♦ eHumanities ♦ Alignment of complex text variants
Professional career
♦ 1978: High school diploma at Lycée de Garçons de Luxembourg ♦ 1978-1982: Study in Computer Science and Mathematics at University of Saarbrücken ♦ 1986: Doctoral Degree under Prof. Dr. Dr. h.c. mult. Günter Hotz ♦ 1992: Habilitation and Venia Legendi in Computer Science ♦ 1982-1994: Research assistant (1982-1991) and project leader (1991-1994) in the National Research Center 124 "VLSI and Parallelism" ♦ 1993 Associate Professor for Circuit Technology at Humboldt-University of Berlin ♦ 1994: Full Professor for Computer Engineering at Martin-Luther-University Halle-Wittenberg.
Computer Science lectures held so far
Automata and Computability ♦ Data Structures and Efficient Algorithms ♦ Informatics and Society ♦ Introduction to Computer Science for students of all faculties ♦ Introduction to Computer Architecture ♦ Introduction to Computer Engineering ♦ Introduction the Operations Systems ♦ Synthesis of Combinational Circuits ♦ Test and Formal Verification of Integrated Circuits ♦ The Hardware Description Language VHDL
Links
---
---