Prof. Dr. Paul Molitor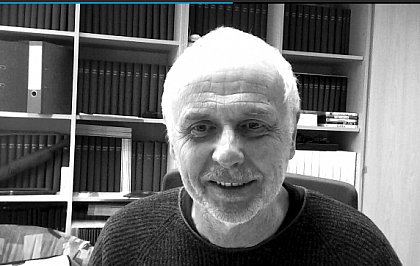 ---
Contact
Prof. Dr. Paul Molitor
Raum 217
Institut für Informatik
Martin-Luther-Universität Halle
Von-Seckendorff-Platz 1
06120 Halle (Saale)
phone: +49 (345) 5524710
fax: +49 (345) 5527009
paul.molitor@informatik.uni-halle.de
Professional career
Prof. Dr. Paul Molitor (*1959, Luxembourg) studied Computer Science and Mathematics at the University of Saarbrücken (Diplom 1982, Promotion 1986, Habilitation 1992). He was member of the scientific staff of Prof. Dr. Gunter Hotz (1982-1994) where he leads a project in the National Research Center 124 "VLSI and Parallelism" (1992-1994). In 1993, he was with the Humboldt-University of Berlin as Associate Professor for Circuit Technology. Since 1994 he is a Full Professor for Computer Engineering at the Martin-Luther-University Halle-Wittenberg (MLU).
Professional activities
Prof. Dr. Molitor's interests concern not only Technical Computer Science, in particular Formal Hardware Verification, but also Combinatorial Optimization and eHumanities. He is author of several lecture books and more then 100 reserach papers.
Prof. Dr. Molitor was/is managing director of the Institute for Computer Science in 1994-1998, 2000-2003, and 2010-2025. He was founding director of the Centre for Informatics at MLU and chairman of the board for IT-investments at MLU (2003-2014). In 2016-2022, he was chairman of the IT steering group of MLU. He was chairman of the "Landes-Hochschul-DV-Kommission" (1995-2014) and the IT Board of the Universities of Saxony-Anhalt (2015-2016).
Since 2003 (with a short sabbatical from 2018-2021), he was Editor-in-Chief of it - Information Technology , De Gruyter, which is the oldest German scientific journal on information technology (launched in 1959).
Current activities
Links
---
---