Dr. Changxing Dong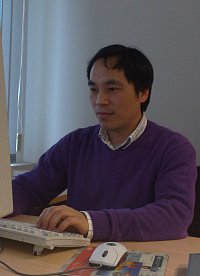 Contact
Dr. Changxing Dong
Raum 215
Institut für Informatik
Martin-Luther-Universität Halle
Von-Seckendorff-Platz 1
06120 Halle (Saale)
phone: +49 (345) 55 24753
fax: +49 (345) 55 27009
changxing.dong@informatik.uni-halle.de
Publications
C. Dong, G. Jäger, D. Richter, and P. Molitor: Effective Tour Searching for TSP by Contraction of Pseudo Backbone Edges. Technical Report 2008/4, Institute for Computer Science, Martin-Luther-University of Halle-Wittenberg, 2008.
C. Dong and P. Molitor. What Graphs Can Be Efficiently Represented by BDDs. In: Proceedings of the International Conference on Computing: Theory and Applications (ICCTA 2007), pp. 128-134, Kolkata, India, March 2007. IEEE Computer Society.
C. Dong. Erkennung von Mustern mit unterschiedlichen Formenräumen in künstlichen Immunsystemen (in German). Diploma Thesis, University of Chemnitz 2004.
---
---