---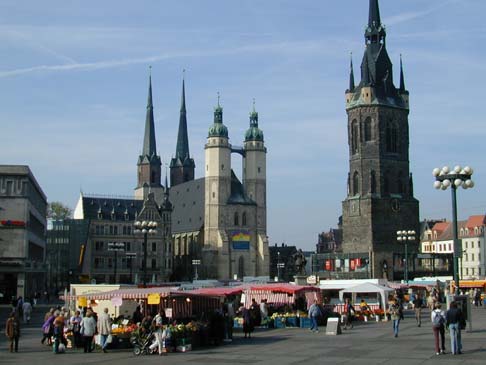 ---
Contact
Datenstrukturen und effiziente Algorithmen
Institut für Informatik
phone: 0345-55 24754 (Sekretariat)
fax: 0345-55-27039 (Sekretariat)
spp1307-meeting@informatik....
Von-Seckendorff-Platz 1
06120 Halle
---
---
Login for editors
---
Travel information
Halle (Saale) is well reachable by train, airplane and car. The nearest airport is Leipzig-Halle (airport code: LEJ).
The Institute for Computer Science is located on Weinberg-Campus at Von-Seckendorff-Platz 1. You will find the building as number (38) in the map of Weinberg-Campus.
Arrival by train
After arriving at Halle (Saale) Hbf, leave the central station by the main exit (DR-Reise-Zentrum, direction north). Take the tram no. 4 in direction "Kröllwitz".
The tram arrives circa 15 minutes later at "Straßburger Weg" where you should exit. [Alternatively, you may take tram no. 5 in direction "Kröllwitz" (25 min).] Please cross the tramrail and the street. Enter the university campus at Von-Seckendorff-Platz. On the left side you can see the building of computer science.
Warning: Please make sure that you have a valid tram ticket. Inside the tram you need a "Geldkarte" to buy a ticket. Tickets are checked quite frequently!
Arrival via the Leipzig-Halle airport
From the airport, take a train from station Leipzig-Halle Flughafen towards Halle(Saale) Hbf. From there follow the directions given above.
Going by taxi from the airport to the campus may cost about 50 EUR.
Arrival by car
Use a route planner, for example google maps below . Our address is: Von-Seckendorff-Platz 1, 06120 Halle.
Größere Kartenansicht
---
---