---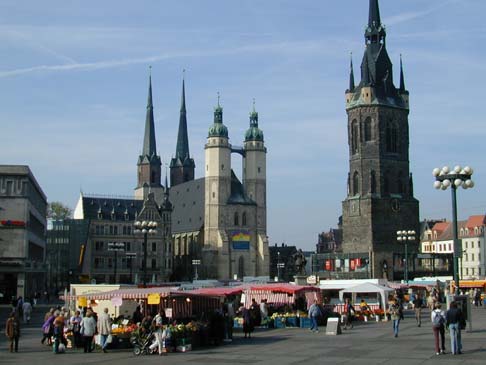 ---
Contact
Datenstrukturen und effiziente Algorithmen
Institut für Informatik
phone: 0345-55 24754 (Sekretariat)
fax: 0345-55-27039 (Sekretariat)
spp1307-meeting@informatik....
Von-Seckendorff-Platz 1
06120 Halle
---
---
Login for editors
---
The Beauty of Halle
History of the University
Today's Martin-Luther-University is a merger of two universities. The University of Wittenberg was founded in 1502 by Frederick the Wise , the University of Halle in 1694 by Frederick III, Elector of Brandenburg , who became Frederick I , King in Prussia , in 1701. The University of Wittenberg was closed in 1813 during the Napoleonic Wars . The town of Wittenberg was granted to Prussia in the Congress of Vienna in 1815, and the university was then merged with the Prussian University of Halle in 1817.
Under the influence of Philipp Melanchthon , building on the works of Martin Luther, the university and Wittenberg became a centre of the Protestant Reformation . In the 17th and 18th centuries the universities were centers of the German Enlightenment . Philosopher Christian Wolff was an important proponent of rationalism . Georg Cantor taught in Halle as an ordinary professor. The first woman with dissertation at a Germany university was Dorothea von Erxleben who received her doctoral degree 1754 in Halle.
The city of Halle
Halle is with about 233 000 inhabitants the largest city in Saxony-Anhalt. It lies directly at the river Saale. Since Halle was hardly damaged in World War II, most of the inner city with its numerous buildings from the beginning of the last century has been conserved.
Main sights of Halle:
Burg Giebichenstein is the oldest castle along the Saale river; a newer part is campus of the University of Art and Design
Moritzburg art museum (place of our social event)
Landesmuseum für Vorgeschichte with the Nebra sky disk
Halloren und Salinemuseum salt evaporation in Halle since the bronze age
Händelhaus Halle is the birth place of Georg Friedrich Händel
Franckesche Stiftungen founded in 1695 as a Pietistic social and educational work by August Hermann Francke, on the German proposal list for UNESCO World Heritage Sites.
---
---