---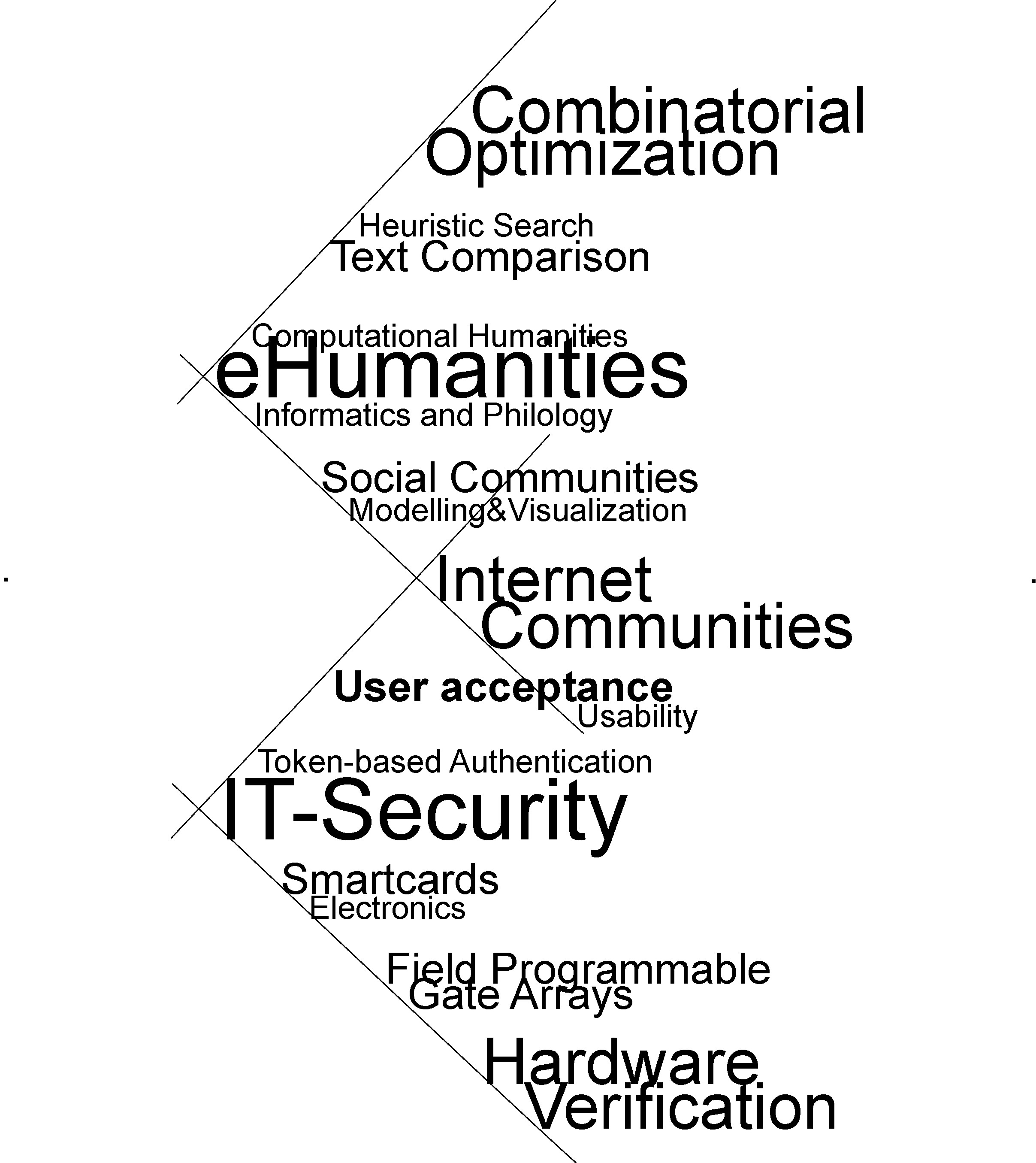 IT-Security and Usability
News
Interview with Sandro Wefel about "Net Culture 2015 - Between Privacy, Network Policy and Participation"
Projects / Third-party projects
Embedded-System-Security and Cryptography - Cyber-Sec-Network-LSA (EFRE funding 2014-2020, Funding period: 01.04.2019-31.03.2022)
Classification of applications obfuscated via domain fronting. (Third-party project with ipoque GmbH Leipzig , together with Prof. Dr. Paul Molitor, Funding period: 01.06.2019-31.05.2023)
E-Government-Application for Identification through statutorily approved electronic ID documents. Joint project of the state of Saxony-Anhalt. Joint project with Harz University of Applied Sciences and IT Service Center of Martin Luther University Halle-Wittenberg. Funded by the state of Saxony-Anhalt 2015.
Smartcard-based Single Sign-On for Campus Management Systems. (EFRE-Projekt 2008-2013.)

Smartcard based single sign-on in student information systems. Funded by EFRE 2008-2013.
Contact Person
Staff
Sebastian Karius, M.Sc.
Mandy Knöchel, M.Sc.
Publications and Talks
S. Karius, M. Knöchel, and S. Wefel. Training and Validating of Advanced Flow-Based Network Traffic Classifiers under Real-World Conditions. Will appear in: Prooceedings of the 27th Asia Pacific Conference on Communications (APCC'2022), Jeju Island, Korea, 19.-21.10.2022. Online: http://apcc2022.org/?page_id=120
H. Strack, S. Wefel und R. Altschaffel. Cyber-Sicherheit als Witschaftszweig. Vortrag, Workshop "Datenschutz, Informationssicherheit und Informationsfreiheit" im Rahmen der Digitalen Agenda des Landes Sachsen-Anhalt, Merseburg, 12. Juli 2017.
S. Wefel and P. Molitor. Raising User Acceptance of Token based Authentication by Single Sign-On. In: International Journal of Information and Computer Science (IJICS), 1(3):070-077, July 2012. (Open Access )

P. Molitor et al. (Hrsg.).

Tagungsband des Abschlussworkshops zu den EFRE-Projekten der Maßnahme 11.03/41.03 "Förderung des Einsatzes neuer Technologien im Wissenschaftsbereich und zur Schaffung von Informations- und Wissenschaftsmanagementsystemen" vom 02.12.2011. 118 Seiten, Januar 2012. (PDF)
C. Bertz. Eine smarte Karte gegen die Passwörterflut (Ein Bericht über ein im Rahmen von EFRE finanziertes Projekt des Lehrstuhls für Technische Informatik). In: scientia halensis, Printausgabe 4/10, Martin-Luther-Universität Halle-Wittenberg, Oktober 2010.
S. Wefel and P. Molitor: Client Hardware-Token Based Single Sign-On Over Several Servers Without Trusted Online Third party Server. In: Proceedings of the 3rd International Conference on Security and Assurance (ISA), Advances in Information Security and Its Application, June 25 - 27 2009, Seoul, Korea. Communications in Computer and Information Science Series, CCIS 36, pp. 29-36, Springer Verlag. (Acception rate: 11%)
Degree Theses
Sebastian Karius. Prototypische Entwicklung eines privaten Blockchainnetzwerkes für begrenzte Ressourcen. Masterarbeit 2019.
Tim Reiprich. Benchmark zur Ermittlung der Perdormanz von QUIC gegenüber verschlüsseltem HTTP/1.1 und HTTP/2. Bachelorarbeit 2018.
Marcel Rödel. Sicherheit von IoT-Geräten. Bachelorarbeit 2018.
Florian Lücke. Ein Honeypot mit Unterstützung des QUIC Protokolls. Masterarbeit 2017.
Mario Kessler. Entwicklung von Algorithmen zum Vergleich von biometrischen Mustern auf Smartcards. Masterarbeit 2016.
Can Althaus. Analyse des praktischen Einsatzes kryptographischer Verfahren in Bezug auf deren Leistungsdaten. Bachelorarbeit 2016.
Tobias Strauß. Entwicklung eines Konzepts zur verteilten Speicherung versionierter Daten. Masterarbeit 2015.
Daniel Haake. Eine Analyse der Bedrohung durch passives WLAN-Tracking anhand monetärer und handwerklicher Gesichtspunkte. Masterarbeit (Wirtschaftsinformatik) 2015.
Toni Sommer. Konzeptioneller Entwurf einer Cloud-Infrastruktur-Sicherheitslösung. Masterarbeit 2015.
Mandy Knöchel. Konzept zur Integration eines Sensors für host- und netzbasierte IDS-Systeme in eigene Programme. Masterarbeit 2015.
Martin Daute. Nutzerauthentifikation am Smartphone unter Verwendung einer Smartcard. Bachelorarbeit 2014.
Fabian Hahne. Implementierung eines Verfahrens zur Ver- und Entschlüsselung von Dateien unter Nutzung von Smartcards. Bachelorarbeit 2014.
Sascha Wiegleb. Open-Source-Netzwerkmonitoring und Anomalieerkennung auf Netflow-Basis. Masterarbeit 2014.
Tim Wollnik. Truepharm - Ein System zum Schutz vor Arzeimittelfälschungen. Masterarbeit 2013.
Mario Kessler. API für die Authentifizierung mit mobilen Geräten. Bachelorarbeit 2013.
Andy Günther. Ankopplung einer NFC-Schnittstelle an mobile Geräte. Bachelorarbeit 2013.
Toni Sommer. Entwicklung eines Wireshark-Dissectors zur dekodierung des auf UDP-basierenden S7 Protokolls. Bachelorarbeit 2012.
Philipp Hoffmann. Untersuchung der Auswertungsmöglichkeiten aufgezeichneter HTTP-Vrbindungen. Bachelorarbeit 2011.
André Gimbut. Verschlüsselte Sprachkommunikation zwischen Android-Smartphones. Bachelorarbeit 2013.
Sascha Wiegleb. Smartcard-Schnittstelle für Thin-Clients. Bachelorarbeit 2011.
Tim Wollnik. Peer-to-Peer Software zur verschlüsselten Übertragung zwischen Mobilgeräten. Bachelorarbeit 2011.
Paul Pfützenreuter. Erstellung und Umsetzung eines Berechtigungskonzeptes für die interne DV-Landschaft des SW-Ressorts der IBYKUS AG. Bachelorarbeit 2011.
---
---