---
---
---
Contact
Institut für Informatik
Institutsdirektor:
Prof. Dr. Paul Molitor
phone: ++49-345-55 24710
fax: ++49-345-55 27009
direktor@informatik.uni-hal...
Von-Seckendorff-Platz 1
06120 Halle
postal address:
Martin-Luther-Universität
Halle-Wittenberg
Institut für Informatik
06099 Halle
---
---
Login for editors
---
Institute of Computer Science
Welcome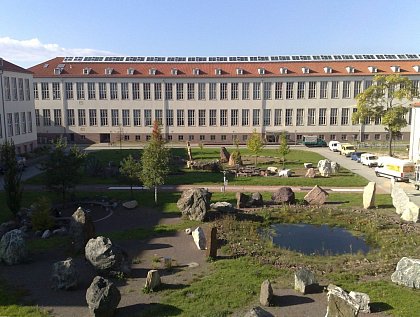 Location of the Institute for Computer Science with the rockery of the Geology (in front of the building).
27. IndustrieTag InformationsTechnologie
22.03.2016: Am Dienstag, den 24. Mai 2016, ab 14 Uhr, findet am Institut für Informatik, Von-Seckendorff-Platz 1, Raum 5.09, der 27.(IT)² statt.
Interessenten sind herzlich eingeladen.
News
IEEE Computer Society Digital Library / ACM Digital Library
01.01.2014: Alle Mitarbeiterinnen und Mitarbeiterer sowie Studierende des Instituts für Informatik können aus dem Netz der Universität sowohl auf die ACM Digital Library wie auch auf die Computer Society Digital Library zugreifen.
---
---