---
---
---
Contact
Institut für Informatik
Institutsdirektor:
Prof. Dr. Paul Molitor
phone: ++49-345-55 24710
fax: ++49-345-55 27009
direktor@informatik.uni-hal...
Von-Seckendorff-Platz 1
06120 Halle
postal address:
Martin-Luther-Universität
Halle-Wittenberg
Institut für Informatik
06099 Halle
---
---
Login for editors
---
Institute of Computer Science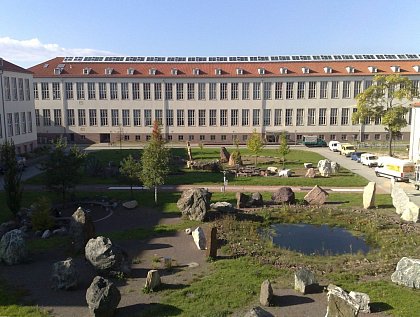 News from the Institute
J-Team auf Platz 1 bei ENCODE-DREAM Challenge
31.03.2017: Im internationalen Wettbewerb "ENCODE-DREAM in vivo Transcription Factor Binding Site Prediction Challenge" behauptete sich ein Bioinformatik-Team des Instituts für Informatik der MLU und des Julius Kühn-Instituts (JKI) gegen 40 Mitbewerber aus aller Welt. In der ersten Runde dieses Wettbewerbs erzielte das "J-Team" einen guten zweiten Platz und konnte sich in der finalen zweiten Runde noch auf Platz 1 verbessern .
Den Bioinformatikern Stefan Posch, Jan Grau (beide Institut für Informatik, MLU) und Jens Keilwagen (JKI) ist es mit ihrem Modell gelungen, Bindungsstellen für Transkriptionsfaktoren in verschiedenen Zelltypen mit hoher Genauigkeit vorherzusagen. Transkriptionsfaktoren sind Proteine, die an bestimmten Stellen im Genom binden und so Gene an- oder abschalten. Dabei wird die Bindung der Transkriptionsfaktoren durch Muster im Genom bestimmt. Außerdem spielt die Zugänglichkeit der DNA eine Rolle, die vom Zelltyp abhängig ist.
---
---