---
---
---
Contact
Institut für Informatik
Institutsdirektor:
Prof. Dr. Paul Molitor
phone: ++49-345-55 24710
fax: ++49-345-55 27009
direktor@informatik.uni-hal...
Von-Seckendorff-Platz 1
06120 Halle
postal address:
Martin-Luther-Universität
Halle-Wittenberg
Institut für Informatik
06099 Halle
---
---
Login for editors
---
Institute of Computer Science
Welcome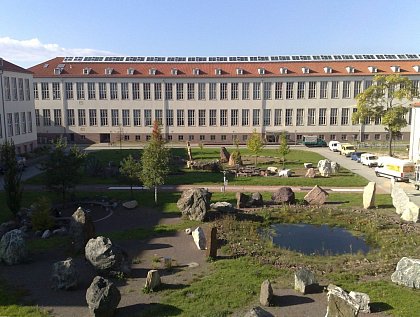 Location of the Institute for Computer Science with the rockery of the Geology (in front of the building).
News (mostly in German)
Von der Bachelorarbeit zum Produkt: Alumni des Instituts für Informatik macht Handys abhörsicher
02.02.2014: Die in Teutschenthal ansässige Firma Digittrade hat eine App für Smartphones entwickelt, die Telefongespräche und andere über Mobilfunk übertragene Daten vor dem Abhören schützt. Die Software "Chiffry" wurde auf einer Vorbereitungsveranstaltung für die Cebit 2014 erstmalig vorgestellt und erregte dort starke Aufmerksamkeit von Experten. Die App ist eine Weiterentwicklung der 2013 am Institut für Informatik erstellte Bachelor-Arbeit "Verschlüsselte Sprachkommunikation zwischen Android-Smartphones" von Herrn André Gimbut, dem Geschäftsführer von Digittrade. Betreuer der Bachelor-Arbeit war Dr. Sandro Wefel aus der Arbeitsgruppe von Prof. Dr. Molitor.
Bioinformatiker der Universität Halle entdecken bisher unbekanntes Muster im Humangenom
04.02.2014: Mit Hilfe von Hochleistungsrechnern ist es Forschern um den Bioinformatiker Ivo Große gelungen, ein bisher unentdecktes Muster der Protein-DNA-Interaktion zu identifizieren. Sie liefern mit der Beschreibung des Bindungsmusters des Proteins CTCF einen wichtigen Beitrag zur Vertiefung des Verständnisses der Genregulation im menschlichen Organismus. CTCF ist ein zentrales Regulationsprotein, das vielfältige Funktionen aufweist, und dessen Fehlfunktion unter anderem Krebs auslösen kann. Die Forschungsergebnisse sind seit heute im Fachjournal "PLoS ONE" veröffentlicht.
IEEE Computer Society Digital Library / ACM Digital Library
10.02.2011: Seit dem 1. Januar 2011 können alle Mitarbeiterinnen und Mitarbeiterer sowie Studierende des Instituts für Informatik aus dem Netz der Universität nicht nur auf die ACM Digital Library sondern auch auf die IEEE Computer Society Digital Library zugreifen. Die Zugangsberechtigung erfolgt über die Prüfung der IP-Adresse.
---
---