Research
Biological and bioinformatic analysis of TAL effectors in the Xanthomonas oryzae - rice interaction (DFG funded)


PI: Dr. Jan Grau
This project aims at advancing our understanding of the interaction between plant pathogenic bacteria and their plant hosts. To this end, we will study transcription activator-like effector (TALE) function using the economically important model system Xanthomonas oryzae and rice (Oryza sativa). We follow an interdisciplinary approach combining biological and bioinformatics work packages. In the biological part we will identify TALEs from different, presently uncharacterized X. oryzae strains. Transcriptomics (RNA-seq) will reveal which target boxes of TALEs are functional in vivo and will also allow us to identify TALE target genes. Systematic reporter assays of target boxes in their promoter context will allow us to dissect different biological determinants of TALE function. The bioinformatic part will support TALE repertoire dissection and TALE target gene identification. In addition, the data generated in the biological part will be used in algorithms to further define in vivo TALE-DNA binding rules, and identify promoter characteristics or specific elements that are required for TALE-mediated gene-induction. Using this interlaced approach, the project will shed significant light on the biological activity of TALEs which will be instrumental to develop future resistant rice.
Collaborator:
PD Dr. Jens Boch, Dept. of Genetics, Institute of Biology, Martin Luther University Halle-Wittenberg
3D reconstruction of barley plants

An important research topic in agriculture is the identification of stress-resistent or high-yield barley genotypes. For identifying such genotypes various different types are sowed and during their growth period pnenotypical numbers like height, number of leafs, or the flowering time are manually aquired in regular intervals. We are working on automated procedures to simplify these monitoring procedure. In particular we seek to reconstruct the plants in 3D from multiple views acquired from different view points. Once 3D data is available all phenotypical data of interest can easily be extracted.
Cooperations:
Plant Breeding Group, Martin Luther University Halle-Wittenberg, Prof. Dr. Klaus Pillen
Dr. Armagan Elibol, derzeit Korea Advanced Institute of Science and Technology (KAIST)
Detection and Tracking of Sub-cellular Structures in Microscope Images

Microscope images of fluorescently labeled sub-cellular structures play an important role in biomedical research. They are of particular importance for understanding system processes within singular cells and their changes under varying environmental conditions. Relevant structures, like stress granules or p-bodies, show a large variation in their specific properties, e.g. in size or homogenity. Consequently techniques for automatic segmentation of these structures in microscope images likewise require a large flexibility and adaptivity. Amongst others we use adaptive algorithms based on wavelets to tackle this task. For tracking particles in videos they are combined with probabilistic filtering techniques.
Cooperations:
Section Molecular Cell Biology, Martin Luther University Halle-Wittenberg, Prof. Dr. Stefan Hüttelmaier
Segmentation of Cell Images with Active Contours

Single cells within large cell populations show a significant variety in their specific properties and behaviours, hence, large data sets need to be analyzed in biomedical research to cover the natural variation sufficiently well. Thereby in particular specifics of single cells are of high interest, and consequently qualitative as well as quantitative analysis steps, like the detection of sub-cellular structures, should always be done for individual cells. Indeed this requires the exact localization of single cells in populations and an exact segmentation of their contours. We solve this problem for a variety of different kinds of cells, amongst others also for neuronal cells, by adopting active contours (levelsets as well as snakes) and corresponding energy functionals.
Cooperations:
Section Molecular Cell Biology, Martin Luther University Halle-Wittenberg, Prof. Dr. Stefan Hüttelmaier
Marvin - Computer Vision on a Mobile Platform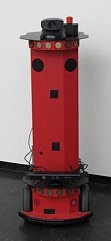 Our mobile robot Marvin mainly participates in lectures we offer at the Master's level. Marvin serves as a mobile platform for investigating computer vision algorithms, e.g. dealing with collision avoidance, indoor navigation or human-machine-interaction in general. But, working with Marvin is not restricted to image analysis and computer vision. Besides the Kinect camera offering 3D data of the environment, the sonar and the integrated microphones also allow for work in other areas of signal processing. Furthermore of course Marvin requires an elaborate control system subsuming its logic and planning modules, which is also continously improved.
Alida and MiToBo

One important goal in our algorithm development is a large flexibility and also modularity to allow for easy reuse of developed components. At the same time implemented techniques are usually handed over to non-expert users immediately, hence, not only the algorithms by themselves, but likewise adequate user interfaces have to be provided. To this end we have developed a concept for an integrated development of functionality and user interfaces in data analysis named Alida (''Advanced Library for Integrated Development of Data Analysis Applications''). Alida defines a standard for implementing and executing data analysis operators, and by this supports amongst others the automatic generation of user interfaces and an automatic logging and documentation of analysis procedures.
Alida has been implemented in Java and prototypically in C++. The Java implementation serves as base for MiToBo, ''A Microscope Image Analysis Toolbox'', where our algorithms for microscope image analysis are collected. MiToBo subsumes operators for basic image processing like filters or morphological operators, and also more complex approaches like active contours or wavelets. In addition, specialized applications, e.g. for segmenting scratch assay images, are provided. MiToBo is based on ImageJ and fully compatible with the wide-spread software package.
More information: http://www.informatik.uni-halle.de/alida and http://www.informatik.uni-halle.de/mitobo
---
---