---

---
---
Contact
Vaibhav Kasturia
Big Data Analytics
Institut für Informatik
phone: +49-345-55 24718
fax: +49-345-55 27009
vaibhav.kasturia@informatik...
room 2.11
Von-Seckendorff-Platz 1
06120 Halle (Saale)
---
---
Login for editors
---
Vaibhav Kasturia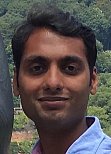 Vaibhav Kasturia studied Internet Technologies and Information Systems (M.Sc.) at the University of Hannover and Computer Science (B.E.) at BITS Pilani. Since August 2019 he is working as a Research Associate in the Big Data Analytics group at the Institute for Computer Science of the Martin-Luther-University of Halle-Wittenberg. The group is part of the Webis Network .
His current research interests lie in the areas of Query Understanding via Entity Linking, Total Recall in Systematic Reviews.
Teaching
WS 18/19 - Object Oriented Programming (OOP)
SS 19 - C Programming
SS 19 - Project internship
WS 19/20 - Foundations of Computer Science and Concepts of Modelling
WS 19/20 - Search algorithms
---
---