---

---
---
Contact
Vaibhav Kasturia
Big Data Analytics
Institut für Informatik
phone: +49-345-55 24718
fax: +49-345-55 27009
vaibhav.kasturia@informatik...
room 2.11
Von-Seckendorff-Platz 1
06120 Halle (Saale)
---
---
Login for editors
---
Vaibhav Kasturia
Short Bio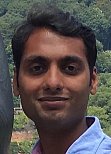 I obtained my Bachelor's degree in Computer Science from BITS Pilani and my Master's degree in Internet Technologies and Information Systems (ITIS) from Leibniz University of Hannover .
During my Master's degree, I worked in the L3S Research Center on exploring Web Archives by extracting Semantic Profiles or Layers from these collections as part of my Research Project. For my Master Thesis, I did further research on ranking the results of these archived documents for structured queries.
Since August 2018, I am working as a Research Associate in the "Big Data Analytics" research group at the Institute of Computer Science of the Martin-Luther-University of Halle-Wittenberg. Our research group is part of the Webis Network .
My research focus lies in the direction of Query Understanding with an emphasis on entity recognition/linking/disambiguation. I also do research in the area of Total Recall and Systematic Reviews.
Broadly, my research interests lie the following areas: Information Retrieval, NLP, Big Data, Machine Learning and Data Mining.
More detailed information can be found in my Curriculum Vitae (last update: 10.05.19).
Publications
2018
2017
P. Fafalios, H. Holzmann, V. Kasturia, and W. Nejdl, Building and Querying Semantic Layers for Web Archives, 2017 ACM/IEEE-CS Joint Conference on Digital Libraries (JCDL'17), Toronto (Ontario, Canada), June 19-23, 2017. [pdf ][bib ][slides ]
Nominated for the Best Paper Award!
Teaching
WS 18/19 - Object Oriented Programming (OOP) (Exercises)
SS 19 - C Programming (Exercises)
SS 19 - Project internship (Supervision)
Other Profiles
---
---